The James S. Luckey Society

Where Creative Strategies Lead to Lasting Legacies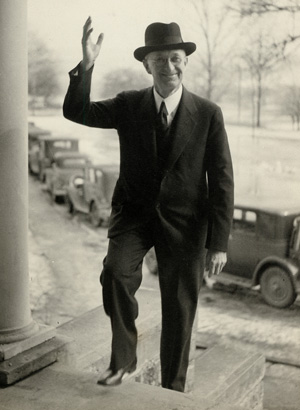 "With praise and thanksgiving they sang to the Lord: 'He is good; his love to Israel endures forever.' And all the people gave a great shout of praise to the Lord, because the foundation of the house of the Lord was laid." (Ezra 3:11 NIV)

The James S. Luckey Society was established in 2010 to honor those donors whose creative gift plans have set a firm foundation for the long-term financial health of Houghton College and its continued ability to support Houghton students as they pursue God's call on their lives.
Like our legacy donors, James S. Luckey—aptly remembered as "The Builder"—demonstrated such qualities as faithfulness, hard work, and deep concern for students. As Houghton's first official president, Luckey set his nearly inexhaustible energy to the task of transforming a relatively unknown high school into a fully accredited college with a reputation for academic excellence.
Even as he pursued this vision, President Luckey attended to the young people God put in his care—often secretly paying their tuition or finding them jobs that would provide room and board to ensure their stay.
Members of the James S. Luckey Society share a similar vision. They give wisely for the long term. They have the big picture in mind, yet their gifts attend to the details. Their support has a major impact on the future of Houghton, but it also touches the lives of individual students—students who will become the future Christian leaders of the church, in their professions, and throughout the world.
Why should I invest in Houghton College?
In the Book of Ezra, around 536 B.C. God's people began the daunting twenty-year task of rebuilding the temple. The job was not easy. It required dedication and sacrifice by all involved. The people faced fierce opposition. Their enemies discouraged them and threatened financial ruin. At times, work came to a standstill.
The people persevered, though. By answering God's call, they accomplished two very significant tasks. They compelled the Lord to renew His covenant with them; they also resurrected a building, and with it the ministries and activities of daily life for the faithful.
Like the temple builders—and like 'The Builder' James S. Luckey—donors of planned gifts to Houghton College stretch themselves to accomplish important spirit-led tasks. Their generous gifts or gift plans ensure that Houghton will be vibrant and accessible for future generations; they also uplift the core mission of the college, essentially equipping faculty, staff, and students with the resources necessary to fulfill that mission with excellence.
There are many ways to make a difference. You can read about them in the How To Give section of this web site. Each plan suits a unique set of personal financial goals and individual means. The benefits to the donor abound. For more information, contact our Office of Gift Planning today or speak to your personal financial advisor. To officially enroll in the James S. Luckey Society at Houghton College, contact us to request a Planned Giving Confirmation Form. Gift illustrations are available.
Mission Statement
Houghton College provides an academically challenging, Christ-centered education in the liberal arts and sciences to students from diverse traditions and economic backgrounds and equips them to lead and labor as scholar-servants in a changing world.
Mission Fulfillment
In order to achieve this mission, Houghton integrates a unique combination of strengths:
Faith At Houghton College, we treat faith as an ongoing process of exploration, grounded in scripture. Our Christian worldview informs all learning and can be found in the classroom, in social settings, and even at sporting events.
Academics Houghton provides a challenging education delivered by experienced faculty with an emphasis on critical thinking and communication. A Houghton education empowers students to achieve professionally.
Experience Houghton fosters an engaged community—locally and globally. Houghton students develop a strong sense of purpose and identity through active dialogue, an entrepreneurial mindset, and the expression of creativity.
Impact Students at Houghton are prepared to contribute and serve effectively by developing a global perspective, learning that service is acting with integrity and compassion, and pursuing solutions to world problems.
At Houghton College, we prepare our students to become global contributors empowered by a challenging education, taught in a vibrant community and grounded in a relevant faith-based context.
© Pentera, Inc. Planned giving content. All rights reserved.
Disclaimer